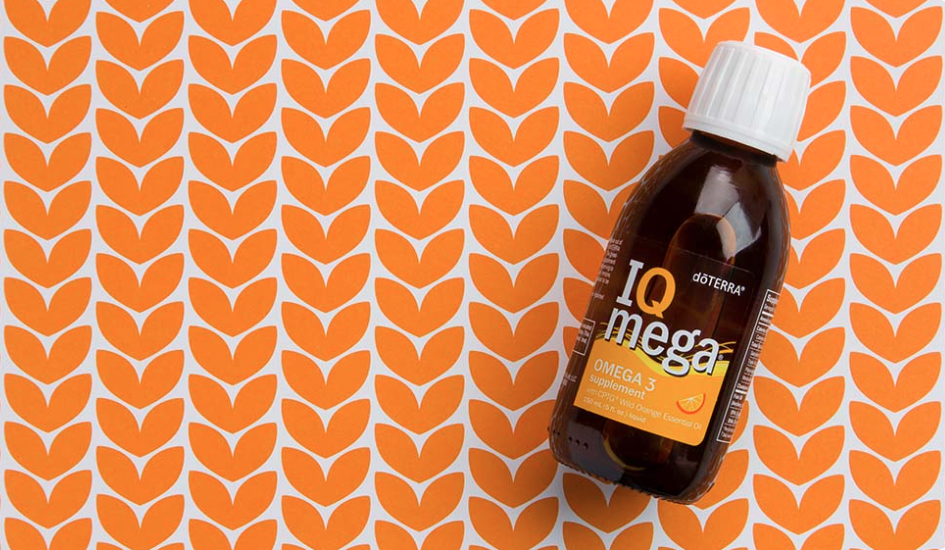 IQ MEGA
IQ Mega has been a household item for us for a long time. With Joanie's mother having had dementia, we believe fish oil supplementation was and is crucial.  Fatty acids serve significant functions in the body including brain development, muscle activity, joint help and cell growth. But getting proper nutrition is often difficult which means it is just as difficult to get the right about of EFAs (essential fatty acids).  What we love about doTERRA's brand specifically is taste. They formulate it with wild orange essential oil which keeps the kids happy for sure!
Directly from doTERRA's website is the uses and benefits of IQ Mega:
IQ Mega can promote healthy cardiovascular, nervous, and immune system function.* This makes it a useful part of any healthy lifestyle.
IQ Mega can also help support healthy joint function and comfort.* While many take joint supplements in addition to a fish oil supplement, IQ Mega includes benefits for healthy, comfortable joints.*
IQ Mega also provides important modulating nutrients for healthy immune function.*
Another benefit of IQ Mega is that it can help protect against lipid oxidation and supports healthy function of the brain and eyes.*
The ingredients in IQ Mega, including the use of essential oil, make it useful for supporting healthy skin.*
While many dislike fish oil supplements due to their off-putting taste, IQ Mega includes the sweet, refreshing aroma and taste of Wild Orange essential oil. By including this CPTG Certified Pure Therapeutic Grade® essential oil, the IQ Mega formula has a more appealing scent and taste when compared to similar supplements on the market.
The IQ Mega formula was specifically designed to be used daily with doTERRA a2z Chewable™ as a comprehensive dietary supplement foundation for a lifetime of vitality and wellness.*
Along with the use of essential oils, other ingredients in the IQ Mega formula keep it from giving a less-than-desirable scent. IQ Mega delivers 1,000 mg of pure, concentrated, molecularly-filtered, and completely deodorized fish oil with 600 mg of EPA and 400 mg of DHA per daily serving. This means that unlike most fish oils, it doesn't stink.
With a delicious Wild Orange flavor, IQ Mega is kid-approved, particularly for those picky eaters, or children who do not like taking supplements.