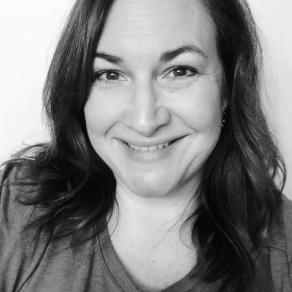 A city girl at heart, JOANIE grew up in Southern California where much of her time was spent on roller skates or a bike. In early adulthood, she spent a few years living along the coast of Maine where she found vegetarianism and became socially conscious. Currently, Joanie is enjoying "life elevated" in Utah with Amaris and the girls. She appreciates being in the mountains but is truly happy at home with family and friends or at the pool engulfed in a book.
During college, Joanie was never able to narrow down her interests to any one thing.  She immersed herself in the study of women's history and social issues for a time but then enrolled in pre-med/nursing classes hoping to become a physician or midwife.  With her growing family, medical school seemed unattainable so she transferred to a Deaf Studies program where she was formally trained to be a sign language interpreter. Eventually, the reality of having a large family shifted her priorities and motherhood became her life's work.
Even though health and wellness were important to Joanie, quick meals and minimal exercise became a way of life when the kids were little. In recent years, Joanie found essential oils and began incorporating them into her life. This supported her in big life changes including the need to lose weight, add physical activity back into her routine and start taking care of herself once again.   She is actively working to find the balance between a healthy lifestyle with the demands of work and a the responsibilities to family needs.
As co-owner of AJ Living Well, Joanie is also a certified in AromaTouch, is an Ideal Life Vision coach and currently studying aromatherapy to add to her repertoire.